iTunes® Playlist Export
Name

iTunesPlaylistExport.exe
version
0.99.4
,
last updated 12/4/2012
Features
Command-line utility to export iTunes® playlists to Windows® Media Player Playlists as well as the M3U/M3U8 playlist format (Winamp/MP3)
Export all or some playlists - pass playlist names in via the command line or via a separate file
Exclude specific song file formats (i.e. protected M4P)
Optionally shuffle songs on export
Optionally copy song files to separate folder for importing into another media library
Optionally converts absolute file paths to relative paths
It's a command line utility, so it can be scheduled to run in the task scheduler
Requirements
Operating Systems: Tested on Windows XP, Windows 7 & Windows 8; should be fine on Vista
RAM: maybe 20MB available for a library with 2000 songs
Disk space: 80KB for the program itself, plus additional space for any exported playlists/songs
License terms: freeware
Screenshot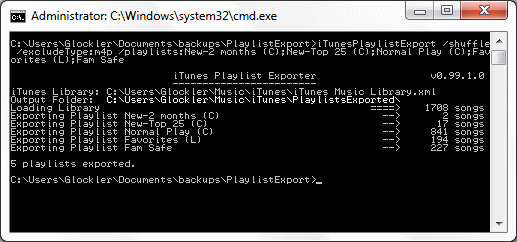 Command Line Parameters
/IN
pass in the location of the iTunes® playlist library.
example: /IN:c:\Music​\iTunes​\myLibrary.xml
if this argument is omitted, the playlist is assumed to be in the current user's Music folder under \iTunes\iTunes Music Library.xml
/OUT
The folder to save playlists to.
example: /out:PlaylistsExported
if this argument is omitted, the playlist is assumed to be in the current user's Music folder under \iTunes\PlaylistsExported
/SHUFFLE
Shuffle the songs in the playlist. By default, playlists are shuffled 4 times, but if you want to customize, use /SHUFFLE:7 to shuffle 7 times
/PLAYLISTS
Pass the playlist names to export. This argument accepts a list of playlists separated by semi-colons or a filename containing one playlist name per line. Example: /PLAYLISTS:New-Top 25;Family Safe;Dance Music
Example: /PLAYLISTS:​@Playlists.txt
/STARS:n
Optionally include only songs with a specific star rating. Multiple stars can be separated by a semi-colon /STARS:0;5 includes songs with 0 and 5 stars
/CHECKED
Optionally include only songs that are checked
/RELATIVE
Converts song filename paths from c:\Users\MyName​\Music​\iTunes​\iTunes Music​\artist​\album​\song.m4a to something relative to the /OUT folder, usually ..\iTunes Music​\artist​\album​\song.m4a

/REPLACE
replaces text at the beginning of filepaths. This is helpful if you're working with a backup of the iTunes folder and the /relative switch won't work. The following example will replace c:\Users​\MyName​\Music​\iTunes\ with ..\
/REPLACE:c:\Users​\MyName​\Music​\iTunes\*..\
/COPY
Copies the music to the Music\ subfolder of the /OUT folder. The progress updates every 5 songs.
/SYNC​[:logfile]
Deletes songs in the output music subfolder that were not referenced in any of the playlists exported during the current program execution. Empty folders are deleted as well /SYNC will just delete, but if you use this switch like /SYNC:logfile.txt then a log file will be created in the program's folder with a list of all deleted files
/EXCLUDE​TYPE
a list of song file extensions separated by a semi-colon. The protected songs can be omitted by using this switch.
Example: /ExcludeType:M4P
/FORMAT
The format of playlist to create:
/FORMAT:WPL Windows Media Player Playlist
/FORMAT:M3U MP3/WinAmp
/FORMAT:M3UE MP3/WinAmp (extended)
/FORMAT:M3U8 MP3/WinAmp
/FORMAT:M3U8E MP3/WinAmp (extended)
/FORMAT:COPYONLY Don't create playlist files, just copy files

/NOWARN
Suppresses warning messages
/Q
Quiet output. Only displays the number of exported playlists, /COPY file progress, errors, and mandatory questions
/INFO
More detailed info about what the program does behind the scenes
Why did I write this?
When I got a new blu-ray player, I didn't know what
DLNA
was, and it wasn't until I finally got a new computer that all of a sudden I saw my computer's music library on the blu-ray player. Once I set up a junction file, I was able to browse a backup copy of our laptop's iTunes library. Browsing the whole library was cumbersome, so I started looking for tools to export the iTunes playlist. Maybe I didn't look hard enough, but I didn't find anything that did exactly what I wanted it to do. So, I started looking for a free compiler to write my own program. I didn't realize that the .net framework came with a free compiler, so i was happy about that. Once I started it, I got to thinking that other people could be in the same boat. Here we are. I hope this program does everything you need it to do.